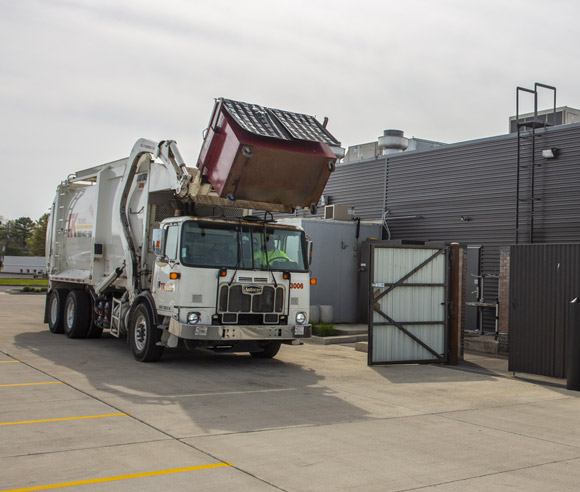 Commercial Service Specialist Position
Full Time  •  Hourly  •  Lafayette, Indiana Office
Job Overview
Join our customer service staff in our Lafayette, Indiana office. Part of our office team, the commercial customer service department takes care of all the local businesses that have selected Trash Kans to haul their waste and recycling. The department works alongside our sales department by managing existing business customers, and securing new customers. The commercial customer service department is the first point of contact with our customers.
The Commercial Customer Service Specialist collaborates with the Sales team to meet department objectives and improve our customer service. This position is vital in communicating our professionalism to our customers. You will be engaging in daily conversations with our customers, ensuring our services are meeting our high standard of excellence. This position is crucial to our long-term success in the solid waste and recycling industry.
Highlights
• Hourly Position with Paid Vacation
• Health, Vision, Dental coverage
• Matching 401K
• Paid Time Off for Vacations and Holidays
• Pay Based on Experience
• Voluntary Life, Accidental Death and Dismemberment available
• Short-Term Disability and Accident Insurance is available
• We're a Local Company that Values Family and the Community
Company Description
At Trash Kans, we exist to maintain clean and healthy communities for generations. Our professional team accomplishes this by serving our neighbors with environmental and waste services with honesty and integrity. Our dedicated employees have competitive pay, great benefits, opportunity for growth, and they are home at night and on the weekends. We're honored you are considering joining our team!
We provide commercial and residential garbage service for the Lafayette, Indiana area beyond. Trash Kans is a local garbage company and we take pride in supporting our neighbors during their clean-up projects and with weekly garbage service. In addition to the Tippecanoe area, we also serve customers in the surrounding counties of Benton, Boone, Carroll, Cass, Clinton, Fountain, Hendricks, Howard, Montgomery, Warren and White.
Key Job Responsibilities 
To perform this job successfully, an individual must be able to perform each essential duty satisfactorily. Other minor duties may be assigned.  
Manage the service agreement program
Manage the customer files
Customer service phone calls – including billing questions and general inquiries
Data input all account activity and communicate changes to route driver
Collection of accounts receivable – call past due customers to encourage them to pay
Bill all commercial customers –daily and monthly on the 1st
Bill and invoice our roll-off dumpster customers daily
Additional tasks and projects as needed
Job Requirements: Knowledge, Skills, Competencies  
Self-Motivated, outgoing, positive, pleasant personality
Excellent verbal and written communication skills
Excellent time management skills
Ability to work both independently and within a group environment
Ability to learn / adapt to the task at hand
Ability to multi-task and work in a fast-paced environment
Education and Experience
• 4-year college degree or 2 years of relevant work experience preferred
Other Knowledge, Skills or Abilities Required 

Experience with Microsoft Office; basic Excel and Word required.
Efficient PC and typing skills
Apply Online
Please fill out the short form below and we'll get back to you soon. Please also attach a short resume that includes your work history and training.