Our waste transfer station serves the Lafayette, Tippecanoe County, and the surrounding Indiana counties.
422 Renissa Court, Lafayette, IN 47905
The Trash Kans Transfer Station serves the Lafayette Indiana area and the surrounding counties. The transfer station is open to the public; accepting truck loads of garbage, and construction material.
Customers pay by the ton of material. There is a minimum charge of $55.00 for any load of material dropped off under 2000 lbs. Hard hats, safety vests and PPE required. All vehicles are weighed on our truck scale before dropping off material.
Materials at the Transfer Station
Acceptable Materials
• Municipal Solid Waste (Garbage)
• Construction & Demolition Material
• Roofing Shingles
NOT Acceptable Materials
• Medical Waste
• Tires
• Electronics, TVs, Monitors
• Hazardous Materials
• Liquids
What are the Transfer Station Rules?
• No Scavenging or Scrapping
• No Loitering
• No Smoking Allowed Anywhere
• Vehicles May Not Exceed 5 MPH
• Constantly Check Your Mirrors
• Headlights Must be on at All Times
• Use Caution When Backing Up
• No Phone or Music Player Usage
• Never Walk Under Raised Tailgate/Hopper
• Wear a Hard Hat While Dumping
• Wear High Visibility Clothing
• Wear Work Boots at All Times
How Use the Transfer Station
Step 1:
Stop On the Large Truck Scale

Our staff will weigh your vehicle and check that your material is not hazardous.
Step 2:
Drop Off Your Material

Follow the instructions of our staff about placement of garbage and safety protocols at the facility.
Step 3:
Return to the Truck Scale

Return to the scale on your way out to be weighed again and make payment.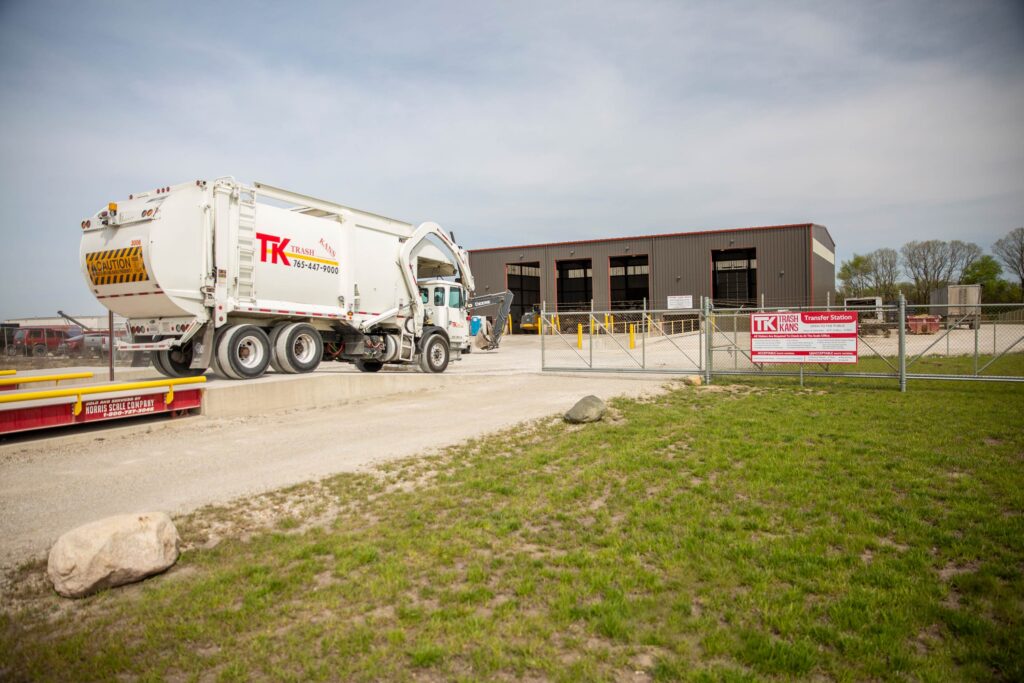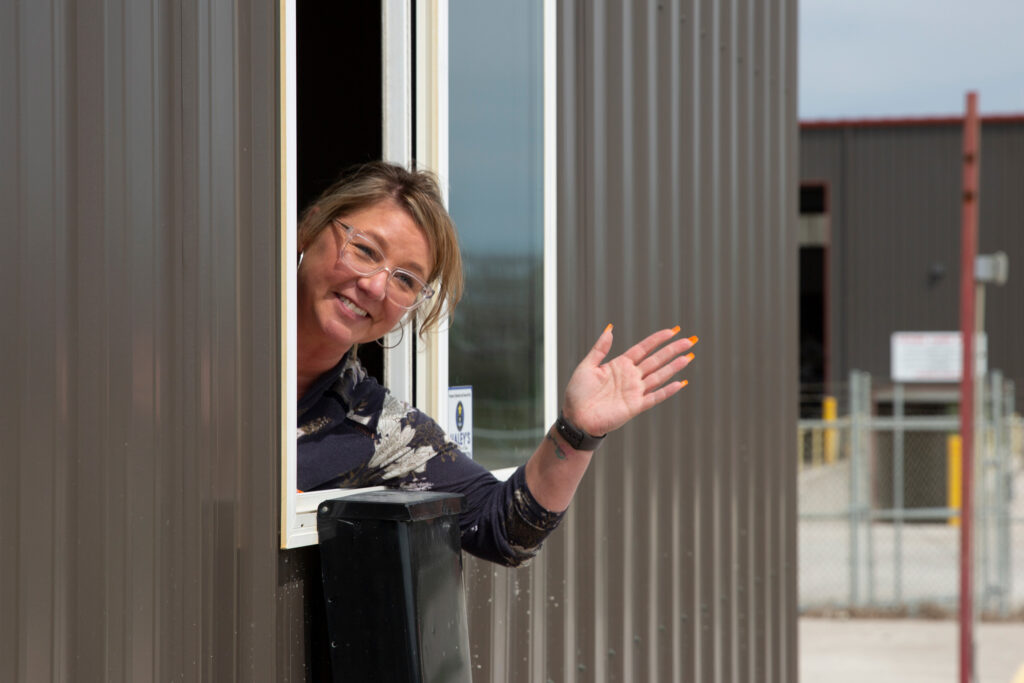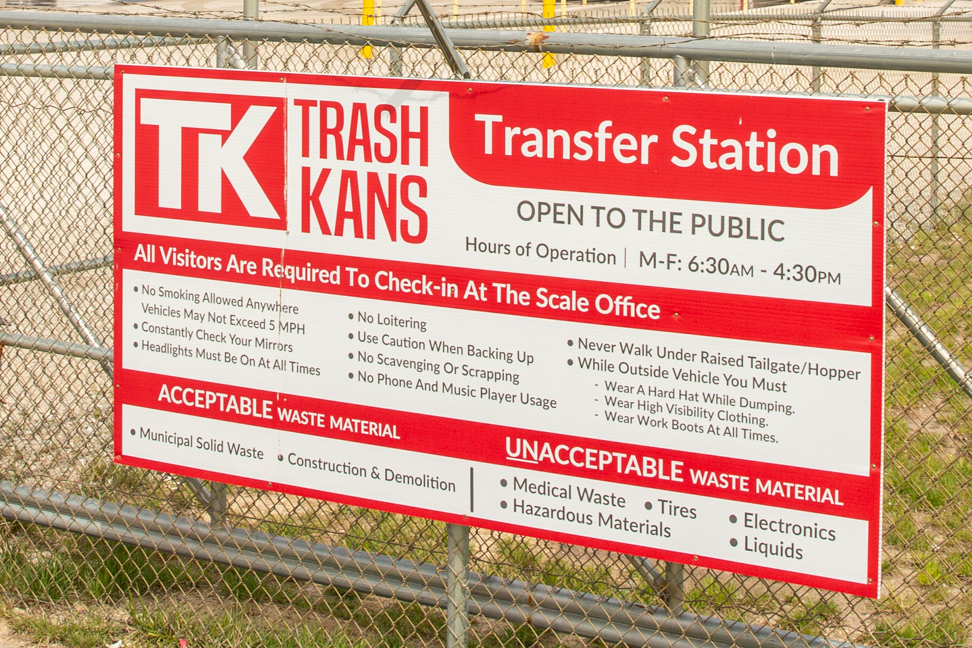 What is a Transfer Station?
Garbage and construction material is brought to transfer stations from homes and business in our service area and beyond. From here the material is quickly loaded or "transferred" into large tractor trailers which take the material to landfills.
Can I Use the Transfer Station?
Yes, homeowners and businesses can use the transfer station to drop off large loads of waste material. Material is usually brought to the transfer station in trailers and trucks. We often serve roofing companies, trucks from local villages, junk clean out companies, landscaping companies, and building contractors. You pay for the amount of material you drop off.
Waste is charged by the ton. We will take smaller loads of material under 2000 lbs (1 ton). There is a minimum charge of $55.00 for loads of material under 2000 lbs.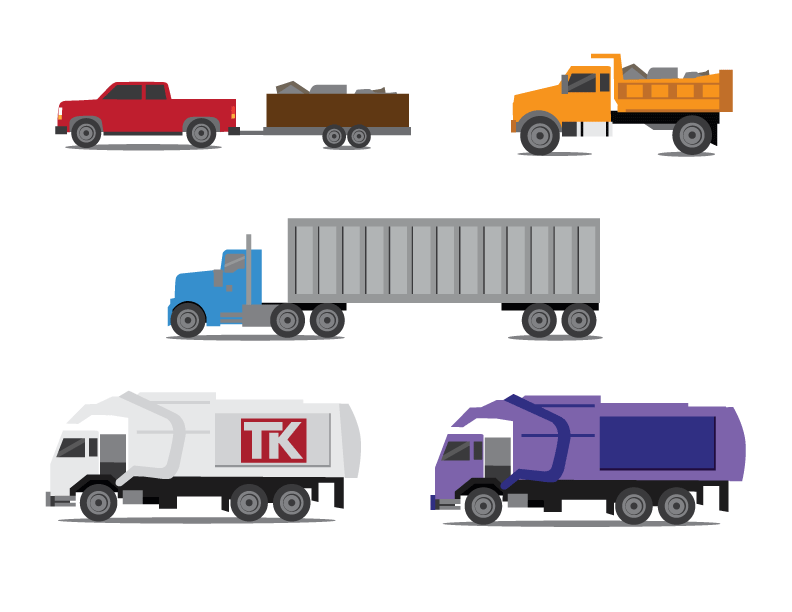 Our Service Area
Trash Kans provides service to 12 Northern and Central Indiana counties: Benton, Boone, Carroll, Cass, Clinton, Fountain, Hendricks, Howard, Montgomery, Tippecanoe, Warren and White.  A majority of our services are available in all counties. If you have a question regarding services in your area, please call us at 765-447-9000.