Payments and Account Access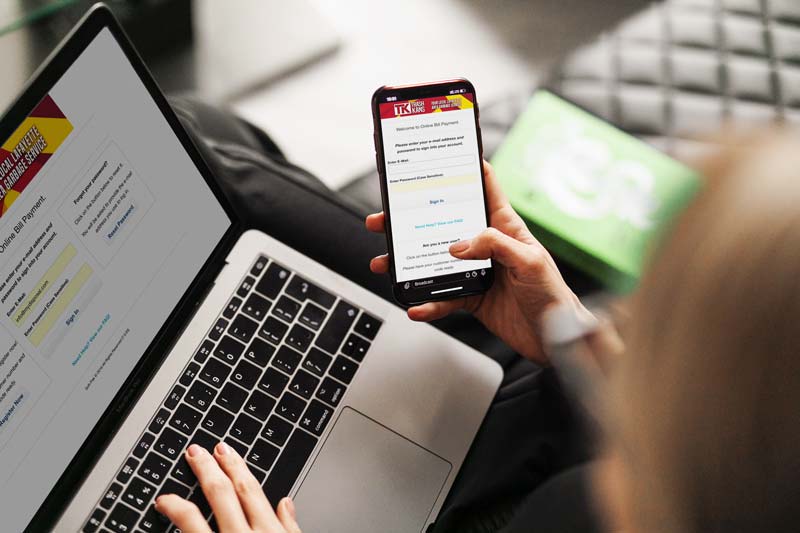 ***PLEASE READ, AUTOPAY INFORMATION DID NOT TRANSFER OVER.
NEW ACCOUNT SETUP REQUIRED.***
In January 2023, we carefully transferred online customer account information to a new secure customer system. Customers can no longer access information on our old system. For your security, we did not transfer any banking or automatic payment information. Banking and automatic payment information will need to be entered again.
Your new online account is ready and waiting to be accessed. We encourage you to register/access your online account and select your billing options again. New customers can use the same steps.
To get started, you'll need your account number and your one-time 7-digit access code. These will be printed on your next invoice from Trash Kans. You'll only need the code the first time you access your account.
If you can't find your access code, scroll down and use the form on this page. We will send you an email with your code.
Get Started – Register Your Account
Step 1: Get Out Your Bill

Locate your TK customer number and your one-time 7-digit access code on your recent invoice.
Step 2: Head to the Accounts Page

Step 3: Register/Access Your Account

Once you are on the account page, click Register Now and follow the prompts.
Pay Your Bill Automatically


Never write a check again! Setting up automatic bill payment is a simple one time process. First, sign up for an online account. Then, within your online account, select automatic payments through your credit card or though your banking account. If you prefer, call us at 765-447-9000 and our account representatives will take care of the secure process for you.
You'll never have to worry again about paying your bill on time or losing invoices. Your payment will be automatically deducted. Online payments may take 1-2 days for processing.
Frequently Asked Questions