Mechanic Job Opening
We're looking for an additional shop mechanic to join our team of mechanics. As an employee of Trash Kans in Lafayette, Indiana, you will have the opportunity to work with exceptional equipment. Along with great wages, benefits and plenty of overtime opportunities, you'll enjoy the small company culture and personal work environment.
We are seeking an knowledgeable, and hard working individual to repair and maintain diesel semi trucks in accordance with factory and industry standards. You'll troubleshoot and diagnose issues individually and as a team, providing the highest level of quality repairs, customer service and safety. The ideal candidate must be responsible, motivated, and have a minimum of 2 years of experience as a diesel technician, diesel mechanic, heavy equipment mechanic, or have experience with semi truck mechanic background. You must have your own tools.
We recommend using a desktop computer, and setting aside a few minutes to fill out the application. Apply below to become a member of our employee family today. We look forward to hearing from you!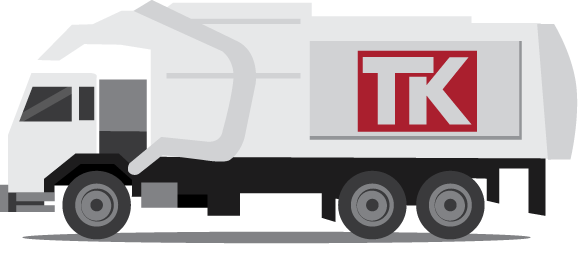 General knowledge of and the ability to diagnose and troubleshoot:
Internal Combustion Engines (both gas and diesel)
DC Electrical Systems 12, 24, 48 volts
Hydraulics
Heavy Trucks/Automotive
Fuel Systems
Electrical Systems
Hydraulic Systems
Professional Experience

2 years of experience working with vehicles
Must be able to communicate sufficiently using English, understand highway signs and traffic signals, and be able to keep legible entries for records and reports.
Ability to work as part of a team and with a positive attitude
Must be dependable and punctual
Ability to perform physical requirements of the job
Own a tool set capable of supporting a general heavy equipment fleet and internal combustion engine maintenance
Must be able to lift 50+ lbs
Work under minimal supervision
Comply with all TK Trash Kans safety rules
Maintains a safe and clean work environment
Willingness to work overtime when required
A clean driving record
High school diploma or equivalent
Legally eligible to work in the United States
Ability to work some weekends and overtime
Company Description
At Trash Kans, we exist to maintain clean and healthy communities for generations. Our professional team accomplishes this by serving our neighbors with environmental and waste services with honesty and integrity. Our dedicated employees have competitive pay, great benefits, opportunity for growth, and they are home at night and on the weekends. We're honored you are considering joining our team!  
We provide commercial and residential garbage service for the Lafayette, Indiana area beyond. Trash Kans is a local garbage company and we take pride in supporting our neighbors during their clean-up projects and with weekly garbage service. In addition to the Tippecanoe area, we also serve customers in the surrounding counties of Benton, Boone, Carroll, Cass, Clinton, Fountain, Hendricks, Howard, Montgomery, Warren and White.  
Apply Online
Please fill out the short form below and we'll get back to you soon. Please also attach a short resume that includes your work history and training.
To maintain our dedication to service and for the safety of our community, we are passionate about hiring safe and responsible co-workers Later in the hiring process, we have the following pre-employment requirements: Physical & Drug Screen, Background Check, Acceptable Motor Vehicle Record (MVR).
For more details, please call 765-447-9000 or email office@trashkans.com.